by Brittany McComas
Can't afford it? Do it your damn self. In this day and age, you're gonna spend just as much time scouring the internet for cheap ass gifts that – unfortunately – look cheap ass. Don't waste your time and money!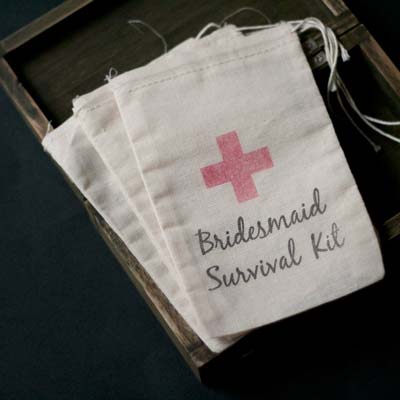 Splurge a little and spend some time on your besties! Making gifts to thank your bridal party can also be a sweet couples activity to bond over while drinking a growler of craft beer and eating tacos on a Wednesday night (not that I'd know exactly what you're doing on a Wednesday night). Get your supplies, crack open your favourite drink, and craft away!
DIY Survival Kits
One of the best ideas for bridal party gifts that can be done inexpensively (or, if you budget has room for more, can get as complicated and fancy as you'd like for it to) is a Survival Kit. Stuff a cool bag with known hangover remedies, and gift them with love…then get to partying!
Find a fun bag for each member of the bridal party. Maybe they're thrifted bags that you collect over time with this particular use in mind, or maybe you design them and have them printed on a website like zazzle; it's totally up to you.
Fill each bag with 'hair of the dog' hangover remedies like:
a mini vodka bottle and a can of bloody mary mix for a morning pick-me-up
a mini champagne bottle with orange juice for a mimosa
a bottle of Gatorade, Powerade or Vitamin Water. Something with electrolytes, basically.
a snack like a cliff bar, candy bar, chips, beef jerky, pretzels…anything!
mouthwash (for their sake and anyone else's, really)
individual mini eye drops (ugh, the pain of hangover-dry eyes!)
maybe something to feel less funky after a night of drinking and sweaty dancing? We thought these Dude Wipes were pretty funny, but useful!
Can you think of anything you would include in these Wedding Survival Kits? Leave a message below, and we'd love to update the list!
Of course, since you're giving these out before the wedding, these Toniiq packs might not be a bad idea. An ounce of prevention is worth a pound of course, as my grandmother says!
Maybe you should have a post-wedding brunch to say thanks, and to make sure everyone survived the evening…unless you're too hungover to make it yourself!